Huddersfield and Manly - the Gledhill Connection

The name 'Gledhill' will not be unfamiliar to anyone in the Huddersfield district. The 1851 census of England recorded a total of 2735 Gledhills, nine-tenths of whom resided in Yorkshire, mostly in the Huddersfield, Halifax, Bradford and Leeds areas. The name is less common in Australia, although in New South Wales, the first of the Australian colonies, the deaths of more than a hundred Gledhills were recorded over the first two hundred years of European settlement. One of them, Percy Walter Gledhill, who died in 1962 at the age of seventy-two, is the principal subject of this paper.

 

Percy Gledhill, or PWG as he was affectionately known to family and friends, is not widely known. He was not a famous statesman, sportsman or artist, but his contribution to local history and genealogy, and to the Anglican Church in Sydney, ensures that he will not be forgotten. For those of us in the Manly Warringah and Pittwater Historical Society, founded by Percy in 1924 and the second oldest local historical society in Australia, his name is synonymous with the historical record of our area.

Like most Gledhills, Percy's roots were in Yorkshire, though they can only be traced with any certainty to his great-great-grandfather Joseph Gledhill, born in Stainland in about 1760, and Joseph's son Moses, born in 1781.

In 1803 Moses married nineteen-year-old Maria Reid and shortly afterwards they moved to Leeds where, over the next two decades Maria bore seven children, four daughters and three sons. The youngest were John Gledhill, born in 1823, and his brother William who entered the world two years later.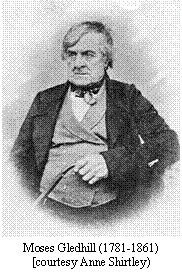 The first record of where the family lived is in the 1841 census. It shows their residence as 'Brittannia Land', presumably in the area of the Britannia Mills adjacent to the Great Northern Railway Station on Wellington Street. By then only John and William still lived with their parents, John working as a clerk and William as a machine apprentice in the mill. Moses also worked in the mill as a wool cloth dresser.
The family did not remain together for many more years. On 11 March 1845, John married Scarborough-born Jane Beswick at Leeds Parish Church of St Peter. Then, in May 1846, William married Hannah Maria Beswick, Jane's sister, and moved to Darlington in County Durham. In between the two weddings was a funeral, that of Moses' wife Maria who died in November 1845.
As usual in those days, a new generation of children soon appeared. John and Jane's first child, Fanny Maria, was born in December 1845 and was followed by Edwin Richard Reid in 1847 and John Richard Walter in 1849. When the census was taken in 1851, they were living at 19 Alfred Place, Little London near Leeds town centre. John was employed as a solicitor's managing clerk and the family was sufficiently well-off to afford an Irish servant girl, Ann McCann.

William and Hannah Maria were also quick to start a family, their first two children, both boys, born while they were still in Darlington. However, by 1851 they had returned to Yorkshire and were living at Hill Side Villas, Bradford. William was employed as an attorney writing clerk and over the next two years Hannah gave birth to two daughters.
Moses, meanwhile, lived at 74 Wellington Street with his daughter Charlotte and her husband Jesse Ainsworth, a Town Missionary. When the next census was taken in 1861, Moses was still at the same address but another daughter, Bessie, had moved in with her husband, Thomas Midgley, who worked as a cloth finisher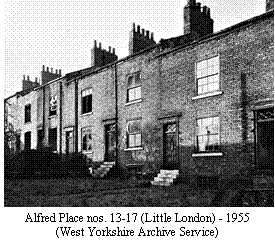 The ten years between the two censuses was a time of upheaval for the family, and especially for John Gledhill. In May 1852, just eight days after giving birth to a new daughter, his wife Jane died. The baby survived her but only by a few weeks. Within a year John had re-married, his wedding to Sarah Kidney again taking place at the Leeds Parish Church. Marion Sarah, their first child was born in 1854, the same year that John's brother William said farewell to Bradford and, with his wife and children, went to Liverpool where they, together with more than two hundred other people, boarded the Lincluden Castle bound for Australia. The three-month voyage took them via Callao, Peru to Melbourne where they berthed six days before Christmas.
It was probably the lure of gold—or at least the wealth that gold could bring—that prompted William to uproot his family and journey half way round the world. The Colony of Victoria was in the middle of a gold rush which had begun in 1851, the same year that Victoria separated from New South Wales, and continued for well over a decade. It saw a vast increase in Victoria's population, from about 77,000 in 1851 to almost 240,000 in 1854 and over 400,000 by 1857. The majority of the immigrants were from Great Britain, America and China, and most found their way to the gold fields.  However, money flowed into the towns and cities so Melbourne also enjoyed a large increase in its population despite many men having  abandoned their work in the city to try their luck on the diggings. To someone like William Gledhill, the prospects for a better life must have been tempting. He began by taking on work with which he was familiar, managing a firm of solicitors, but later, when he saw that land rather than gold was the real foundation of prosperity in the colony, he established his own real estate and auctioneering business.
Back in Leeds, Sarah, John's wife, was quickly pregnant again, giving birth to George Frederick in June 1855. Sadly, he lived  only nine months and within weeks, in June 1856, John and Sarah, together with their four surviving children, three of them from John's first marriage, decided to follow William to Melbourne. They packed up their home in Leeds and made the trek across the Pennines to Liverpool to join almost four hundred emigrants on board the Golden Era.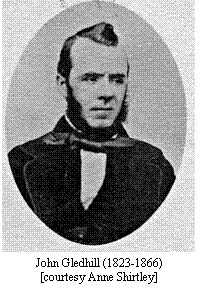 The Golden Era reached Port Phillip on 9 October 1856 having earlier called at Ceylon. By the time they arrived Sarah was again expecting. The family made their home in Emerald Hill, South Melbourne and Lucy Jane was born there in early December, only to die less than three months later. This proved to be a desperate pattern for John and Sarah who, over the next eight years lost four more children in infancy. Only one, Bessie Midgley, born in 1860, survived childhood and lived a relatively full life.
Sarah's misery did not end with the deaths of her children for in 1866 John passed away at the age of forty-two. Fortunately, Sarah had only Bessie to care for, as Marion Sarah and all three children from John's first marriage had grown into adulthood by then. Indeed, within a few years Edwin had moved to Sydney and was listed in the 1873 Sands Directory as living in South Head Road and being a hatter by profession. Walter (ie. John Richard Walter) also moved to Sydney, possibly at the same time as Edwin or maybe a little later. Once there, the brothers, emulating their father and uncle before them, became romantically attached to a pair of sisters, Clara and Louisa Eastes, whose father, Charles, had recently established the first chemists' shop in Manly. Edwin married Clara in 1882 and two years later Walter married Louisa, both weddings taking place at Manly Congregational Church.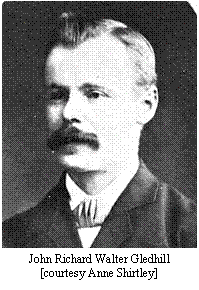 This was, as far as we know, the Gledhills' first connection with Manly, a suburb on the northern side of Sydney Harbour close to its entrance. Nevertheless, they continued to reside south of the harbour in Sydney's east. Edwin and Clara made their home on Oxford Street where Clara gave birth to five children. However, by 1892 they had returned to Victoria where their sixth child, Fanny Muriel, was born. They then spent the rest of their lives in and around Melbourne.
Walter and Louisa, however, remained in New South Wales. Their first home was on Elizabeth Street, Paddington where Walter, like Edwin, worked as a hatter. Sadly, their first two children, Lillian (b.1885) and Florence (b.1888), both died in infancy but then, in 1890, after their move to William Street, came Percy Walter. Two more children followed, Vera (b. 1895) and Ernest Edwin (b.1905).
It was about the time of Percy's birth that Walter and Louisa decided to move to West Maitland some hundred miles north of Sydney in the Hunter Valley. Maitland was the main centre in a long-established agricultural and coal mining district and had been connected with Newcastle by rail since 1858. Yet until 1889 getting there from Sydney was awkward, involving either a long road journey with a ferry across the Hawkesbury River or a sea voyage to Newcastle and then by road, rail or boat up the Hunter Valley.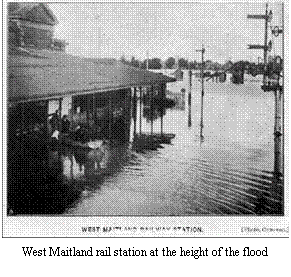 However, the opening of the railway bridge across the Hawkesbury at Brooklyn in May that year, completing a continuous rail link between the colonies of South Australia, Victoria, New South Wales and Queensland, made the journey much easier. Since Maitland was on the main rail line its economic prospects looked good and Louisa's brothers, Charles and George, with the backing of their father, had already started a pharmacy there. Walter, anticipating a land boom, abandoned the hat trade to set himself up as an auctioneer. However, their stay in Maitland was short-lived. After losing all their belongings in the massive flood of March 1893 both the Eastes and the Gledhills returned to Sydney where Walter established a real estate agency on Enmore Road in the inner suburb of Newtown.
Percy Gledhill grew up in Newtown and eventually took over his father's business there, but it was Manly, where he lived all his married life, that defined his future activities as an avid local historian. We shall look at this aspect of his life in Part 2. 
Part 2  -  Percy Walter Gledhill - local historian and genealogist
As we saw in Part 1 of this article Percy Gledhill was born in Sydney in 1890 but his ancestral roots lay in the Huddersfield district. Percy's father, Walter, was only seven years old when he came to Australia with his family in 1856. He grew up in Melbourne but in the 1870s moved to Sydney where he later established a real estate business in Newtown. Percy spent his formative years in Newtown and, on leaving school, joined his father's business. However, soon after his marriage to Lily Eliza Frederick at St Stephen's Church, Newtown in April 1913 he moved to Manly, by then firmly established as Sydney's foremost seaside village with beaches facing both the harbour and the ocean. As a weekend and holiday resort Manly offered many enticements including surf bathing, picnic grounds and hotels, although some of the special attractions of the late 19th century—the camera obscura, water chute and aquarium—were no longer there.
Percy and Lily took up residence on the heights above Manly in a house called 'Lilyvale' and it was there that their two children, Ruth Lily and Walter Samuel, were born in 1915 and 1917 respectively.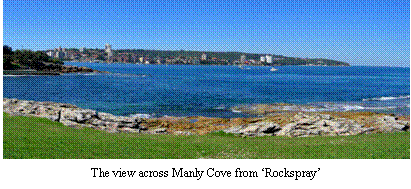 About three years later the family moved to 'Rockspray' on Fairlight Crescent, close to the harbour and with a beautiful view over Manly Cove to the Sydney Heads.
Percy continued to assist his father in the real estate agency and when Walter died in 1925 Percy took over the business, buying out his younger brother. He continued living in Manly but running his business in Newtown for the rest of his working life.
It was probably Percy's increasing familiarity with Manly and its surrounding districts, as well as  his regular contact with some of its more prominent citizens, that first sparked his interest in local history. His first significant foray into community activities was in the early 1920s when he, together with other local dignitaries, approached residents for the donation of items that could be exhibited to illustrate the history of the area. Thus the Manly Art Gallery and Museum was born, and accompanying it, in 1924, the Manly, Warringah and Pittwater Historical Society. One of Gledhill's colleagues in these enterprises was Douglas Hope-Johnston, a descendant of Lieutenant (later Colonel) George Johnston who had been aide-de-camp to Captain Arthur Phillip RN, Commander of the First Fleet and first Governor of New South Wales.
On 18 September 1924 the new historical society held its first business meeting at which Hope-Johnston was elected as President and Gledhill as Secretary, a position he held until taking over  the presidency in 1940, a role in which he then remained for the next twenty-two years.
The Manly Warringah and Pittwater Historical Society embraces three districts which together constitute a large but coherent region. With the Tasman Sea to its east, Port Jackson to its south and Broken Bay to its north, it is virtually isolated from the rest of Sydney on its western side by two other major waterways, Middle Harbour and Cowan Creek. For that reason it is often referred to as 'The Peninsula'. The southernmost district, Manly, was incorporated as a municipality in 1877 but the area to its north did not acquire local government until 1906 when the shires were established and the entire Peninsula outside the Manly Municipality became the Shire of Warringah. Although Pittwater, like Manly, had acquired its name in the earliest days of British settlement, the district surrounding it did not achieve separate local government until it seceded from Warringah in 1992.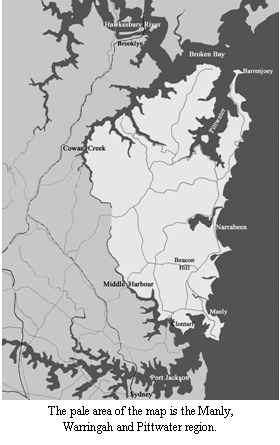 Historically, the area has much to offer. In 1788, when the European colonists established their settlement at Sydney Cove, Manly became the gateway for northern exploration. From there began the expeditions to Broken Bay that led to the discovery of the Hawkesbury River, along the upper reaches of which the first productive farms were established. For many years the river served as the main route for the transport of produce to Sydney, and Pittwater was important as a sheltered haven for boats that plied the route between the Hawkesbury farms and Sydney.
Much of the focus of the Historical Society during its early years was on the role the region had played in the early explorations of the colony and, in particular, its connections with Governor Phillip and the First Fleet. In 1928 Manly Council donated a small plot of land on the harbour front for the Society to erect a monument commemorating the visit of Phillip to Manly on 21 January 1788, five days before the flag was raised at Sydney Cove. The monument was unveiled with much fanfare by Rear Admiral George Francis Hyde, Commander of the Australian Squadron, in January 1929. Percy Gledhill and other officers of the Society featured prominently in the ceremony.
Spurred by Percy's enthusiasm, further monuments, and more ceremonial unveilings by distinguished parliamentarians and military figures, followed—at North Harbour, Spring Cove, Barrenjoey, Beacon Hill, Narrabeen and Brooklyn—all commemorating Phillip's exploits and incidents, though not always accurately.
Other events were also acknowledged—the surveys of McCarrs Creek by Captain John Hunter in 1789 and William Govett in 1829, the grant of Scotland Island to Andrew Thompson in 1810, the first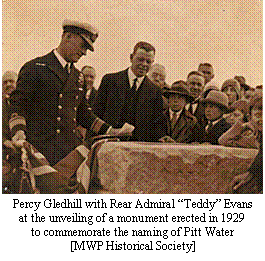 punt across Middle Harbour at the Spit in 1850, the attempted assassination of the Duke of Edinburgh at Clontarf in 1868, and the building of the first lighthouse on Barrenjoey Headland, also in 1868.
Gledhill's efforts in bringing these important historical events to public attention were acknowledged not only locally but nationally. Adjacent to the existing Barrenjoey lighthouse is an open piece of ground offering a magnificent panoramic view over Broken Bay. In 1935 the Commonwealth Government named the spot 'Gledhill Lookout'. It is marked by a stone cairn and metal direction plate, and was unveiled by Captain Lowe, the President of the Historical Society in 1936.
Other places in the region also have Percy's name attached. Two waterfalls on McCarrs Creek in Ku-ring-gai Chase National Park are the Upper Gledhill Falls and the Lower Gledhill Falls. Percy had a strong affinity with the park, having worked there as an honorary ranger during the 1920s.
However, Percy's activities stretched beyond his role in the local historical society. In 1932 he was one of the founding members of the Society of Australian Genealogists, serving as Honorary Treasurer (1932-35), Vice-President (1932-33 and 1949-56), and President (1947-48). His paper entitled 'The Gledhill Family', which included many references to the Huddersfield and Halifax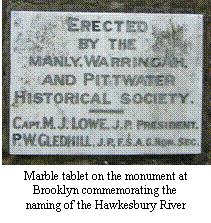 districts, appeared in the first volume of the Society's journal, The Australian Genealogist, in January 1934. Later that year he was among the first group of Fellows to be appointed and the letters F.S.A.G., as well as J.P., frequently appeared after his name on documents and on monuments.
In 1940 Percy Gledhill became a Councillor of the Royal Australian Historical Society, and was awarded a Fellowship of the Society in 1952 for publications, addresses and his role as President of the Manly Warringah and Pittwater Historical Society. It was on assuming the last position, also in 1940, that he arranged the Society's affiliation with the RAHS, only the fifth local historical society to become an affiliate. By 2001, when the RAHS celebrated its centenary, the number of affiliates had risen to over three hundred.
Other historical institutions in which Gledhill took an active role were the Bar Island Trust on the Hawkesbury River, and the Church of England Historical Society which he helped found in 1956, served as senior vice president, and was appointed a Fellow. As a committed Christian and church-goer he represented Manly on the Diocesan Synod of Sydney, was warden of St Andrew's Cathedral, Sydney (1937-39), churchwarden of St Philip's, Sydney (1940-1945), and honorary secretary and churchwarden of St Luke's, Brookvale (1913-37).  In 1924 he joined the board of trustees for the historic Camperdown Cemetery, becoming chairman in 1926. As well, he was official historian to the Diocese of Bathurst, and authored books on the histories of St Matthew's Church, Manly, St Luke's Church, Brookvale, and St John's Church, Pittwater, as well as the historic Anglican churches at Cooks River, Hurstville, Windsor, Richmond, Penrith, St Mary's and Mount Victoria.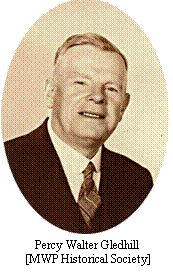 However, the book for which Percy Gledhill is probably best known is Manly and Pittwater: its beauty and progress, published under the auspices of the Historical Society in 1948. As the first comprehensive record of the region's history it documented much of what he had discovered during his years of research and remains a useful reference work even today.
Percy died at his home in Fairlight in 1962. His legacy was a record of achievement which, by any standard, was remarkable, and his life and works will long be remembered not only in the places bearing his name but in the thriving institutions that he helped found, and in which he played a leading role over many years. Perhaps the energy, enthusiasm and determination he exhibited throughout his life could be attributed to the Yorkshire grit in his blood, and while the Gledhills of Huddersfield undoubtedly have many members of whom to be proud, Percy Walter Gledhill from the far side of the world deserves to be numbered highly among their ranks.

Author's note 
I am most grateful to Anne Shirtley, Percy Gledhill's granddaughter, for providing me with invaluable information on the Gledhill family. It might be noted that Percy's wife Lily died in 1967 while his son, Walter Samuel, Anne's father, passed away in 1997. However, at the time of writing, Percy's daughter Ruth, now in her nineties, still lives in Fairlight, almost within a stone's throw of the old family home.
Other information recorded here was obtained from UK Census data and from records held by the Public Records Office of Victoria, the Victorian Attorney-General's Department, the NSW Attorney-General's Department, the State Library of NSW, State Records NSW and the Manly Warringah & Pittwater Historical Society archive. The author would be happy to provide any interested readers with a comprehensive list of sources.
Tony Dawson lives at Newport Beach, NSW, Australia.  He is a member and newsletter editor of the Manly, Warringah & Pittwater Historical Society which was founded by Percy Walter Gledhill in 1924.